Finder Pompe - Oil and Gas - API 610 and API 685 - OH2 - HPP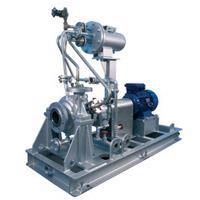 The HPP pumps are designed and manufactured according to API 610, 11th edition and are suitable for heavy duty applications in the oil and gas, refining and petrochemical industry. Designed to run at 50 or 60 Hz., with temperatures ranging from -100°C to +400°C, these pumps provide very high reliability, high interchangeability, easy accessibility to the inner parts and minimum maintenance.
The pump casings are radially split, centerline supported with end suction and top discharge, single or double volute. Axial balance is achieved by means of balancing holes on the impeller. Oversized thrust bearing versions are available for high suction pressure applications. A wide choice of hydraulics is available to optimize pump selection at any design point, thus reducing the operating costs. Minimum shaft deflection, due to minimum impeller overhung with respect to bearings, ensures long trouble-free seal life. A sturdy and deep stuffing box allows to fit cartridge mechanical seals, according to API 682 norms. Bearing housing cooling, if required, is achieved by means of a stainless steel cooler of innovative design. As an alternative, a cooling fan fitted directly on pump shaft can also be offered on all pump models. All constructive materials, as per API 610 material tables, are available. Other material combinations such as erosion/corrosion resistant alloys are also available for specific applications.
---
Other Products in this Category