Vanton - Sump-Gard Vertical Centrifugal Pumps - Sump-Gard SGK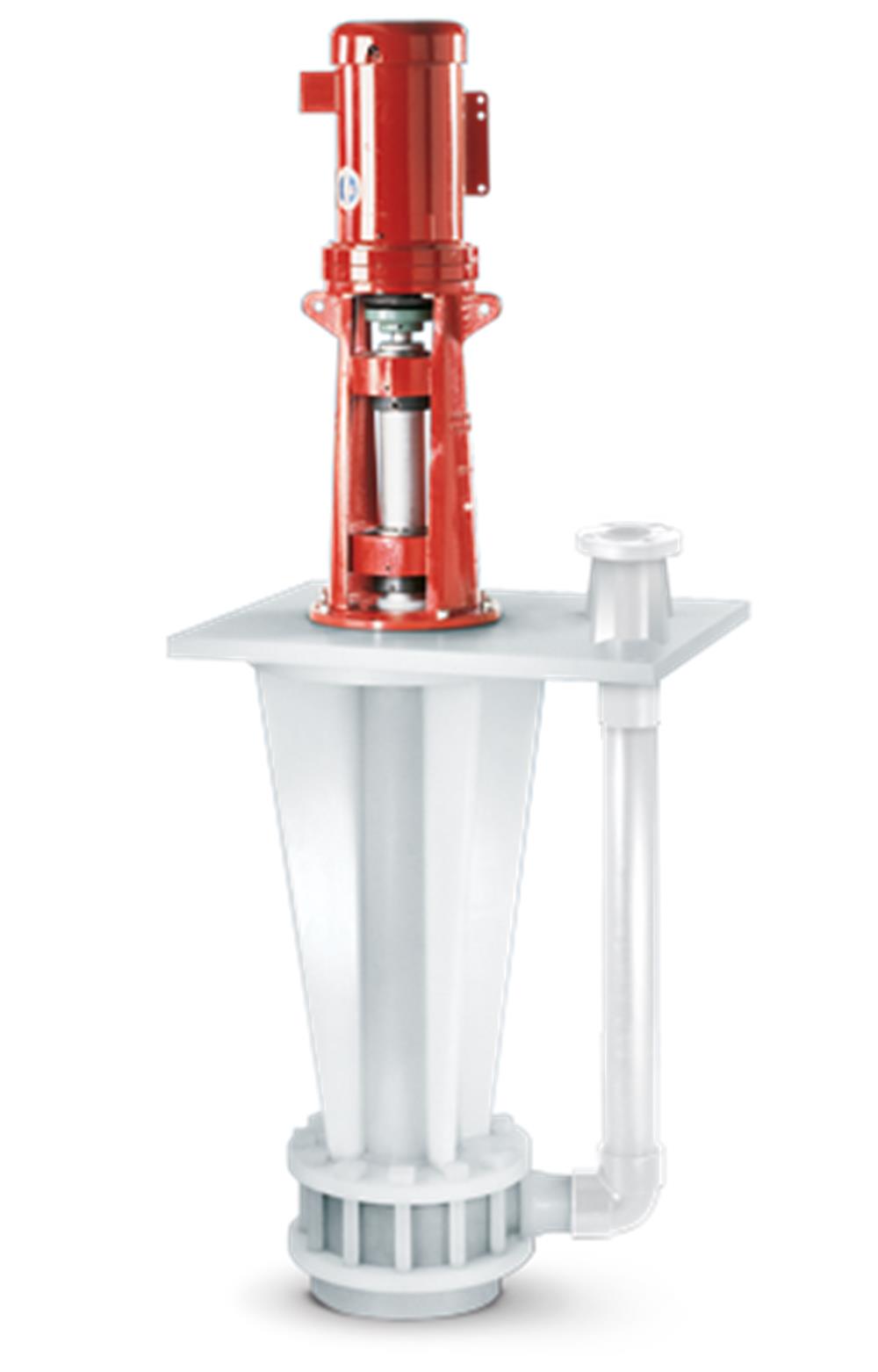 SGK cantilevered bearingless pump has run-dry capability
Flows to 850 gpm (193 m3/h)
Heads to 175 ft (53 m)
Lengths to 4 ft (1.2 m)
Temps to 275°F (135°C)
Construction: PP, PVC, CPVC or PVDF
The cantilevered, large diameter shaft design of the SGK pump eliminates the need for immersed bearings, providing indefinite dry-run capability and dependable operation. As a result, Vanton SGK cantilevered sump pumps are specified for applications in which brief or long-term stoppage of fluid flow may occur, as well as for applications in which regulations prohibit draining tanks from the bottom.

SGK pumps are available in lengths to 4 ft (1.2 m) but can accommodate deeper sumps through the use of tail pipes. Models are available with standard semi-open or closed impellers, or with recessed impellers that provide unrestricted flow so that fluids with solids or stringy materials can be pumped without impeller clogging.

As with all Vanton vertical centrifugal sump pumps, SGK pumps are designed to handle corrosive, abrasive and hazardous process fluids, wastewater liquids and slurries across the entire pH range, as well as ultrapure fluids that cannot tolerate metallic or other contamination.

All fluid contact components are injection molded or fabricated of homogeneous polypropylene (PP), polyvinyl chloride (PVC), chlorinated polyvinyl chloride (CPVC) or polyvinylidene fluoride (PVDF) — corrosion resistant thermoplastics that are chemically inert to the fluids they are specified to handle. The heavy-duty stainless steel shaft is completely isolated from the fluid by a thick-sectioned thermoplastic sleeve, eliminating metal contact with the pumped fluid.

Unlike all metals (including stainless steel, Hastelloy® and other high alloys) that have accepted annual rates of corrosion, Vanton thermoplastics do not, allowing ultrapure liquids to be transferred free of contamination.

And because all wet end components are solid, thick-sectioned, stand-alone thermoplastics (unlike plastic linings) they are easy to replace, maximizing uptime while minimizing cost.

As a result, SGK pumps are widely used for the transfer and circulation of aggressive or ultrapure fluids in chemical, environmental, manufacturing and wastewater applications — wherever run-dry capabilities are important to minimizing maintenance costs and maximizing mean time between repairs (MTBR).

This pump available with recessed Vortex impeller for slurries and fluids containing stringy materials or solids to 2 in. (51 mm) in diameter.
Features
Rugged thermoplastic vertical pump with cantilevered shaft eliminates the need for immersed bearings, allowing for indefinite dry-run capability.
Large diameter stainless steel shaft isolated from the fluid by a thick-sectioned thermoplastic sleeve.
Heavy duty external ball bearings above the cover plate, housed in an epoxy-coated cast iron motor bracket that accommodates NEMA, IEC and European standard motors.
Casing, casing cover and impeller injection molded of solid, homogeneous thermoplastics. Structurally reinforced columns and other components in fluid contact to be of similar thermoplastic material.
All immersed pump parts and hardware are homogeneous thermoplastics. No metal in fluid contact, eliminating metallurgical specifications for chemical compatibility.
Quiet running, durable flexible coupling to isolate motor from hydraulic thrust force.
Non-metallic vapor seal to protect ball bearings and metal motor bracket assembly from corrosive fumes.
Dynamically balanced (semi-open or closed) impeller with imbedded, molded-in stainless steel insert with keyway for positive drive.
Standard or custom thermoplastic sump cover plate resistant to the corrosive liquid or vapor.
Perforated strainer basket available in a broad range of solid thermoplastic materials.
SUMP-GARD® SGK PUMP DIMENSIONS: INCHES (MM)
Scroll table left and right for small devices.
MODEL
SIZE
SUCTION /
DISCHARGE
DIMENSIONS IN INCHES (MM)
A
B
C
D
Y/X

SGK-200

1 X 1
(25.4 X 25.4)
Varies
with
Motor
Size
9
(228.60)
7 1/2
(190.50)
22 5/8
(574.68)
18 to 48*

(457.20
to
1219.20)

SGK-300

1 1/2 X 1 1/2
(38.1 X 38.1)
11 1/4
(285.75)
8 13/16
(223.74)
22 5/8
(574.68)

SGK-500

2 X 2
(50.8 X 50.8)
11 1/4
(285.75)
9 5/8
(244.48)
22 5/8
(574.68)

SGK-800

2 X 2
(50.8 X 50.8)
11 1/4
(285.75)
9 5/8
(244.48)
22 5/8
(574.68)

SGK-1000

3 X 2
(76.2 X 50.8)
12 3/8
(314.33)
9 5/8
(244.48)
22 5/8
(574.68)

SGK-1200

3 X 2
(76.2 X 50.8)
15
(381.00)
13 1/4
(336.55)
22 5/8
(574.68)

SGK-1800

4 X 3
(101.6 X 76.2)
15
(381.00)
13 1/4
(336.55)
22 5/8
(574.68)

SGK-2000

4 X 3
(101.6 X 76.2)
15 1/2
(393.70)
13 1/4
(336.55)
22 5/8
(574.68)

SGK-2400

6 X 4
(152.4 X 101.6)
22 3/4
(577.85)
17 1/8
(434.98)
22 5/8
(574.68)
*Tailpipe extensions can be added.
---
Other Products in this Category