Gruppo Aturia - Submersible - Submersible Electric Pump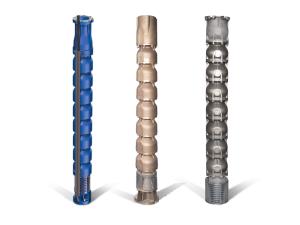 Gruppo Aturia started developing the Submersible Pump for pumping water in agriculture and for distribution of water in the municipalities.
For these applications all the structural parts of the pumps are made of Grey Cast Iron.
Grey Cast Iron is a perfect material for clean and deep water, with good resistance to water corrosion.
Gruppo Aturia, in the 70s developed a series of Mixed-flow and Radial-flow pumps fully in Bronze, to extend the applications of the Submersible Pumps to brackish, volcanic and sea waters.
Bronze material, easy to cast, has excellent resistance to corrosion caused by sodium chloride (present in brackish and sea waters) and to the acids dissolved in the volcanic waters.
Gruppo Aturia, in the last decade, thanks to the development of low wax casting process for steel, developed a complete series (Mixed-flow and Radial-flow types) of stainless steel impellers to be used in the pumps with grey cast iron bodies.
Gruppo Aturia, in the 2007 designs a new series of Mixed-flow pumps from 6" to 12" fully in stainless steel.
---
Other Products in this Category